Magic Shop
From Heroes of Hammerwatch wiki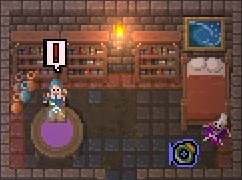 A shop located on the left side of the town, where you upgrade your resistance, skill damage, skill crit chance, and skill crit damage.
This shop is unlocked by purchasing it in the 3rd Tier in the Town Hall. After recovering the mage from the Armory.
Purchasing every upgrade available costs 323,000 gold.
Tier
Upgrade Cost
Resistance
Skill Power
Skill Crititcal Chance
Skill Critical
Damage Multiplier
1
30 Ore
+5 Resistance (2,500G)
+10 Resistance (3,500G)
+5 Skill Power (2,500G)
+10 Skill Power (3,500G)
+5% Chance (5,000G)
-
2
60 Ore
+15 Resistance (5,500G)
+20 Resistance (7,500G)
+15 Skill Power (5,500G)
+20 Skill Power (7,500G)
+10% Chance (10,000G)
+0.5x Spell Crit Damage (10,000G)
3
120 Ore
+25 Resistance (12,500G)
+30 Resistance (17,500G)
+25 Skill Power (12,500G)
+30 Skill Power (17,500G)
+15% Chance (20,000G)
+1.0x Skill Crit Damage (20,000G)
4
200 Ore
+40 Resistance (25,000G)
+50 Resistance (35,000G)
+40 Skill Power (25,000G)
+50 Skill Power (35,000G)
-
+1.5x Skill Crit Damage (40,000G)
Total
Cost
410 Ore
50 Resistance (109,000G)
50 Skill Power (109,000G)
15% Chance (35,000G)
3.5x Skill Crit Damage (70,000G)